If I were to carry a survey, the majority of traders will have a preference for TradingView.com charting tool.
I have used many trading platforms in my trading career.
One constant issue that traders have is to have an all-around great tool for charting stocks.
Most brokers have platforms that come with a charting tool of some type.
However, it has been my experience talking to numerous traders that they tend to have an "outside" charting tool.
So I am providing below the TradingView review of its web-based Charting tool.
IS TRADINGVIEW ANY GOOD ?
As we discussed in a previous chapter, technical analysis is a key component of any methodology.
Therefore, it is crucial for traders to be comfortable with the features of the charting tools.
One of the best charting tools is from TradingView website.
Below are the reasons that make TradingView my charting tool of choice.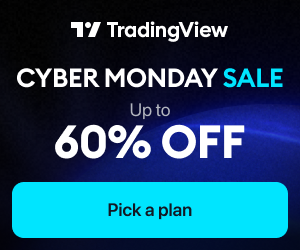 FEATURES OF TRADINGVIEW TOOL
TradingView has a community of over 5 Million traders .
They provide real-time trading quotes on numerous instruments ranging from equities in the US to commodities markets across the world.
The view below displays quotations from majors indexes on the Top.
One can easily access the different sections from the meu : Ideas | Markets | Scripts | Screener | Streams | Brokers | Chart | More
The tool comes in a free version with basic technical indicators.
You will be limited to 3 indicators per chart on the free version.
TradingView Stock Screener
The Stock Screener area aim to mix fundamental and technical views of over 7200 US stocks.
Performance over multiple time frames are offered next to income statement, balance sheet, dividends, margins and valuation.
The beauty of this is that the information is not limited to US markets only.
One can obtain similar data through filters on 50 other countries.
As an example, Nigeria has 126 equities out of which Dangote Cement PLC (Ticker:DANGCEM) carries the highest valuation at 2385 Billion as of this writing.
Tradingview Demo/Paper Trading Account
It also gives the ability to learn how to trade on the Paper Trading account, which is very important for beginners.
There is an economic calendar , a news feed and even a selection of shows to boot.
The shows are from some big known personalities in the finance space who provide their opinions on today's markets.
IS TRADINGVIEW GOOD FOR DAY TRADING: FANCY ALERTS
Traders can setup 12 different types of alerts on this platform.
The basic alert is when a condition is met on an indicator or a price crossing a preset threshold.
For instance, "Alert me when company XYZ goes above $100" or "when the price of Adobe goes outside its upper Bollinger bands".
It is worth mentioning that there is a whole section on fancy drawing tools on which alerts can be applied as well.
Along with the alerts, there is this internal section I really enjoy called What's new.
It looks like this.
I find it very convenient to learn about the latest features and improvements to the tool.
As you can see on this recent capture on the screen above, their development team is quite busy always bringing new items.
The December 24, 2019 example for VWAP is really quite nice because this indicator is a very important one for a lot of traders.
TRADINGVIEW REVIEW: IDEAS THROUGH COLLABORATION
Traders have the ability to create trading ideas, share them with fellow traders.
They can then learn through collaboration through posting of charts with annotations.
TRADING IDEAS
The section dedicated to trading ideas for any security in the world: Stocks, Futures, Forex, Crypto, Commodities.
Each trade idea can be a prediction, an analysis or a set-up based on current market conditions.
The ideas can be shared with video or just a standard candlestick chart as shown on the chart below.
A play button enables you to see the results of the predictions thus making it very valuable in measuring the accuracy of such predictions.
It displays the Top authors and an indication on the level of engagement their ideas have generated from the trading community.
You can sort the authors by day, week month or all time to get a sense for consistency.
Then it is possible to follow authors based on your level of interest to their ideas (sectors of the market they specialize in) or their reputation Ranking.
Through my experience, I notice that there are a bit too many ideas related to Bitcoin and Forex compared to standard equities.
EDUCATIONAL IDEAS
This area mostly focus on technical analysis. Learning about tools, trading methods and analysis methodologies is the quintessence of this area.
If you would like to master a specific type of pattern(s), this is the place for you to do so by witnessing the work of those work are doing it successfully.
Here are some of the area of technical analysis available:
Trend Analysis
Harmonic Patterns
Chart Patterns
Technical Indicators
Wave Analysis
FEATURED BROKERS (NEW)
Recently in last quarter of 2019, the platform started featuring Top Brokers.
One of them, TradeStation caught my attention because it has a $0 minimum deposit and they are offering Tradingview Pro version for free !
I will be doing further research on t in the near future. I shall keep you posted.

Let me mention the others by order of appearance: AMP Global, Alpaca, Oanda, Forex.com and Tradovate.
No all of them offer options trading.
Therefore, I may not find value in most of them until they start providing that service.
HOW TO USE TRADINGVIEW IN YOUR OPTIONS TRADING ?
This is the tool I use when I am day trading stocks Options or sing trading really.
I usually have several tabs opened on a single window.
Typically, I have a few charts for my Watch list pinned on the browser window so that I can quickly toggle back and forth between different stocks or between different timelines.
Here is an introduction video to help you navigate through the Tradingview Charting tool.
One can customize the background screen with a color of one's choice and save it as a template so that it automatically load sup with the trader's favorite settings each time.
This is what I like most about it. All my default indicators are plotted once for all and I do not waste any time every morning from my daily routine.
TRADINGVIEW

PRICING
The tool comes initially with a free version with limited features of course.
The company provides a 30-day free trial of the any of the paid versions that come with all the belts and whistles.
I have been using the free version for many years.
The reason is that I use very basic indicators in my trading methodology.
For traders who need more advanced indicators, there is a monthly subscription for the PRO, PRO+ and Premium packages as shown below.
Here are the main differences between the two versions.
The Pro+ offers 10 indicators per chart versus only 5 indicators for the Pro.
According to TradingView own internal survey, here are the three most important reasons why people upgrade to Pro+:
Multiple Charts Layout – Up to 4 charts per tab
More Indicators per chart – Up to 10
Custom Time Intervals – Such as 12 minutes and  7 hours per candle bar

Also, the numbers of alerts on price and drawings goes from 10 to 30 when upgrading to the Pro+ version.
Unless you are a really big shot trader, there is very little incentive in paying twice the price for these small differences.
Here is a Live Chart with some of the features I have on my Pro Subscription.
As for Premium, the numbers of indicators per chart jumps to 25 while the number of alerts limit goes all the way to 200.
By my experience, it is quite difficult to manage a daily watch list of 25 stocks.
Therefore, the need to have 200 active alerts is really not something most of you may have at this time.
Aside from this web-based version, Tradingview also provides mobile Apps for both Android and iOs.
Is Tradingview Premium A Scam ?
Far from me to convey the idea that the premium version is not worth its price.
However, certainly for most beginners, it is not worth it.
I see value in this version for veterans traders who are capable of managing very large Watchlists and thus have the need for over 30 alerts than can stay active over 60 days.
For the rest of us Day and Swing traders, Tradingview Pro+ can get the job done.
I hope you found value in this web-based TradingView.com review.
Here is a Link to try out for yourself and decide if it fits your current trading needs.
Feel free to leave your comments below and let me know if you would like to share your own review.